A lot of the blogs I follow participate in WIAW, so I decided to join the fun this week!
For those who are interested in my Weight Watchers journey, I am including PointsPlus values.
First thing this morning I started with a cup of coffee.  I got this from Costco, and it is actually very tasty.  It's organic, and "farmer friendly." Hmm, not quite sure what that last part means, now that I think about it!
Anyway, I have two cups with sugar and half and half (2 points total for both cups).  The second cup is enjoyed with breakfast.
Breakfast was prepared after I get my little buddy fed, dressed and taken to daycare.  Breakfast was enjoyed by my work computer after I got back.  It was two eggs, scrambled with bell pepper, mushrooms and sharp cheddar.  I realize it's not seasonal (don't judge), but I had watermelon and pineapple with it (5 points total).
I took an early lunch break to run some errands, so to tide me over I threw together a smoothie to take with me. Contents = banana, frozen organic blueberries, unsweetened almond milk and fat free greek yogurt (1 point).  And may I say YUM?!
Late lunch was leftover turkey chili (beef version recipe posted here).  I paired it with a toasty turkey, cheese and spicy mustard sandwich made on my grill pan. The turkey chili was 6 points, and the sandwich was 5 points.
Dinner was hamburger steak, made with some of that great grass-fed ground beef that Whole Foods has on sale a few weeks ago.  I stocked up my extra freezer while it was on sale.
Hamburger steak was 7 points, and it was seasoned with low sodium Dale's seasoning (1 point), garlic, S&P.  In the same baking dish are some roasted carrots (0 points) and russett potatoes (2 points).  I also made some green beans to go with it (0 points).
(Picture to come – I haven't made it yet, but wanted to get my post up!  Rookie mistake!)
Update: Here is the picture.  It doesn't look all that pretty, but it sure was tasty!  I am adding that I had enough points left for a dinner roll (3 points).
If you'd like to participate in WIAW, follow the link, and post what YOU ate Wednesday.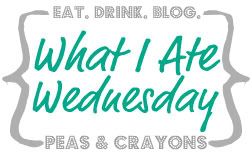 (Visited 102 times, 1 visits today)