It's time for What I Ate Wednesday (WIAW).  These Wednesdays come back around fast, don't they?!
Like always, I started the morning with a cup of coffee while I got my little man dressed, fed and taken to daycare.  I also split a banana with him (0 points).
Once I got home, I made some oatmeal (4 points) cooked in unsweetened almond milk (1 point), with a couple teaspoons of sugar for sweetness (1 point) and blueberries (0 points).  I also had my second cup of coffee with half and half, plus sugar (2 points for the two cups)
My work schedule allowed me to take a walk, and again I incorporated a little jogging, which felt great (3 activity points earned).  I also am a little bit obsessed with fall at the moment, so I snapped some pics with my iPhone.  The leaves are at their peak in Birmingham right now.  Absolutely beautiful!
I had a few conference calls at work.  Then I started thinking about how I was craving some sweet potato fries.  So I made a healthy oven-baked version (4 points), and I stuck them in the oven while I did a little more work.  I am so lucky to be able to work from my home to be able to throw together lunches like this!
When they were about done baking, I made myself a turkey and cheddar toasted sandwich on the grill pan (5 points).  I added a little side salad (0 points) with my home-made single serving balsamic vinaigrette (1 point).
I am loving these ultra thin slices, by the way (1 point, already included in the sandwich points total).  They are not reduced fat, but rather very thin slices of the real thing.  Delicious!
Snack was my usual light greek yogurt (2 points) and grapes (0 points).
Dinner was at Outback steakhouse.  It was my mother-in-law's birthday dinner.  I enjoyed a 6 oz Victoria's filet (6 points) with a side of steamed vegetables (0 points) and a side salad (5 points) with light balsamic vinaigrette (2 points).  Those points values were taken straight from the Weight Watchers e-tools, so I knew they were accurate.
Sorry that there is no photo of dinner!  My son was being fussy, so I was doing my best to contain him.
Anyway, as you can see I am eating a ton of food!  I do not feel deprived in the least.  If you make the most of your points and eat pretty healthy, you can really eat a lot and still lose weight.
If you'd like to participate in WIAW, here is where you can link up.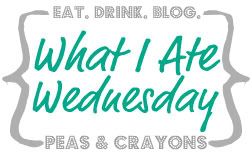 (Visited 319 times, 1 visits today)