Note: This post contains affiliate links. This means that at no additional cost to you, I will earn a commission if you decide to make a purchase through any of my links.  I recommend products I like because they are helpful and useful, not because of the small commissions I make if you decide to buy something.  All opinions are my own.
I am loving WIAW!  I love seeing what other people eat.  Plus, I have gotten some feedback from my Weight Watchers friends that this type of post is helpful.  Win/win!
If you'd like to participate, link up here.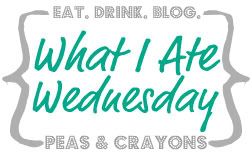 So my day started with a cup of coffee.  I sip this while I feed my son and get him off to daycare.
Then I come back home and make breakfast for myself, which I eat while I begin my work day.  Today I broke out my old egg poacher.  Love this thing!  If you use one, just be sure to spray the cups with cooking spray, and then use a spatula to loosen the cooked eggs from the cups before dumping them out.
I made 2 poached eggs (4 points).  I had some grapes (0 points) and a Vitalicios CranBran muffin (3 points).  I got these at the grocery store, but did you know Vitalicious has tons more options you can order online?  I will be checking that out for sure.
I had my second cup of coffee with breakfast with half and half and sugar. 2 Points for the two cups of coffee.
My work schedule allowed me to squeeze in some exercise this morning.  It was such a beautiful day.  I took several snapshots.
I also jogged a little, which was really exciting.  I used to run several years back, and something made me want to take things up a notch on my walk this morning.  It felt good too (4 activity points earned).
I ate a couple of chunks of fresh pineapple (0 points) when I got back from the walk/jog (not pictured).
After a few conference calls and work tasks, I was able to meet my hubby for lunch at our favorite Mexican joint.  I absolutely LOVE that I can manage a meal at a Mexican place, while still losing weight.  It may not be the healthiest, but life is all about balance.
I got a chicken quesadilla (7 points), with refried beans with cheese (4 points).  I did not eat the rice.  Not because I don't love it, but because my points budget didn't allow for it.  I opted to have tortilla chips and salsa instead.  I portioned out a few chips (3 points) to enjoy with the salsa (0 points).  I also put some salsa on the quesadilla.
For snack, I got this idea from WeightWatcherGirl1, Tracey Pinder.  I love her YouTube channel.  She gives lots of great tips.  I had a Dannon Light Greek mixed berry yogurt (2 points) topped with raspberries (0 points) and 1/4 cup of fiber one cereal (1 point).  It was  so satisfying and delicious.  Thanks for the tip Tracey!
My hubby was working at an athletic event after work, so little buddy and I were on our own for dinner.  I had some leftover baked chicken tenderloins (5 points) over greens (0 points), with mozzarella cheese (2 points), kalamata olives (1 point).  I made a double batch of my homemade balsamic vinaigrette (2 points) which met my healthy checks for the day (good fat requirement).
(Visited 286 times, 1 visits today)