Welcome to What I Ate Wednesday, where I show a day of my eats on Weight Watchers.  I am doing Simply Filling this week.  This method is the less popular alternative to the tracking method.  On Simply Filling I do not have to count points for any power foods I eat.  I still get 49 weekly points per week to use on anything that is not a power food.  So I will only note points for items that count against my weeklies.  Unlimited does not mean free-for-all!  I eat until I am physically full.  For more on Simply Filling, see Weight Watchers' explanation here.
For breakfast I had oatmeal, made with skim milk and 1 teaspoon of chia seed (0pp) with strawberries.  I added 1pp worth of sugar to sweeten it.  I also had two cups of coffee (2pp for the cream and sugar in the two cups).

For lunch I had some leftover chicken breast on a sandwich thing with spicy mustard, thin Colby jack (1pp) and kale sprouts. I also had some grapes and a spinach salad with garlic herb vinaigrette (counts for 1 of my 2 daily healthy oils allowed on SF).

For snack I had a yogurt, banana and a cup of Chamomile tea.

Dinner was quick! We just heated up some pre-made Chicken Tortilla soup that I bought at Costco.  Keepin' it real, y'all.  Because some nights I just need something easy peasy, and I've got no shame about that!  The ingredients all looked like power foods.  I did add some low fat sour cream for 1pp.  I also clipped some fresh chives from my herb garden in the backyard to throw on top.  It was yummy!  Especially for an easy dinner.

I get a lot of new visitors on WIAW.  If you are new, WELCOME!  You should check out the page I created *just* for my new followers here.
For more WIAW fun, head on over to Peas and Crayons here: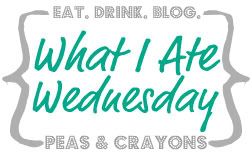 (Visited 1,796 times, 1 visits today)