Happy WIAW!  Where I share my eats on Weight Watchers.  If you follow me on YouTube, then you know this is my first week on the Simply Filling (SF) technique.  To learn more about the SF method, you can watch my overview video.  But in a nutshell, you can eat any foods off the Weight Watchers power foods list, with 49 weekly points allowed for extras.
Breakfast: My go to has been scrambled eggs and fruit.  I also had two cups of coffee (2pp for the half and half and the sugar).
Lunch: I notice since I started SF, I have been eating a lot of leftovers for lunch.  Fewer deli sandwiches, and more hot meals.  Like this turkey vegetable soup, with a grilled cheese (1pp for the 2% American cheese).
I also have been eating salads.  You get 2 teaspoons of healthy oil on SF, and I can make some yummy dressings with those.  This salad (another recent lunch this past weekend) is all SF, except for the part skim mozzarella (2pp).
SF snacks have mostly been smoothies or popcorn.  Side note, see how I prepare my own DIY microwave popcorn in this video tutorial.  I do not have to count points for either on SF.
For dinner Tuesday night I made turkey tenderloin, with rosemary roasted potatoes and green beans.  Again, all SF, so no need to count points.
I am curious to see the results on the scale for my simply filling experiment.
My main take away so far?  I feel like I am engaging a different part of my brain!  Let me explain.  When I was counting PointsPlus, I relied heavily on the math to keep my portions in check.  It was very black-and-white.
Now on SF I am having to ask myself if I am still hungry, or if I really want more.  Hello gray area!  It makes me nervous because that is what got me into trouble in the first place!  But I am trusting my hunger signals.  If I am hungry, I eat.
Also, I am fully aware that in the weeks following a big loss sometimes my weight plateaus.  Since I had a three pound loss last week, I am not expecting stellar results on the scale.  But two weeks on SF should give me more solid idea if I can really lose weight on SF.
Are any of you trying Simple Start or Simply Filling? What are you learning? Any lessons or thoughts?  I would love to hear!
For more WIAW fun, check out Peas and Crayons here: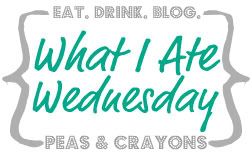 (Visited 2,039 times, 1 visits today)