Air fryer hamburgers are so juicy, delicious, plus super quick and easy to make!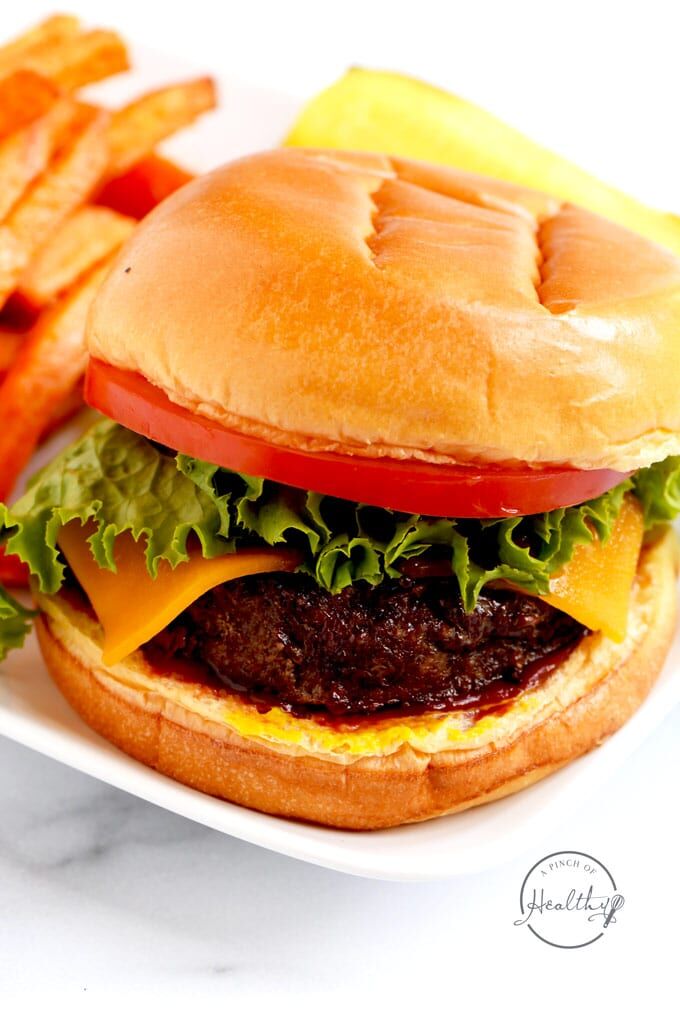 Using an air fryer to make burgers is a super low key way to make this classic. I still love grilled burgers too. But maybe you don't have a grill or maybe the weather is too hot/ cold/ stormy to grill outdoors.
This method tastes much better to me than making it on the stovetop. The burgers cook quickly too, and they retain so much of the juices. You can have dinner on the table in less than thirty minutes.
Ingredients
I want to remind you that as with all of my recipes, these burgers will taste best with the highest quality ingredients. To make this air fryer hamburgers recipe, you will need the following:
ground beef (I am using 85/15)
salt and pepper
garlic powder
onion powder
Worcestershire sauce
your favorite burger buns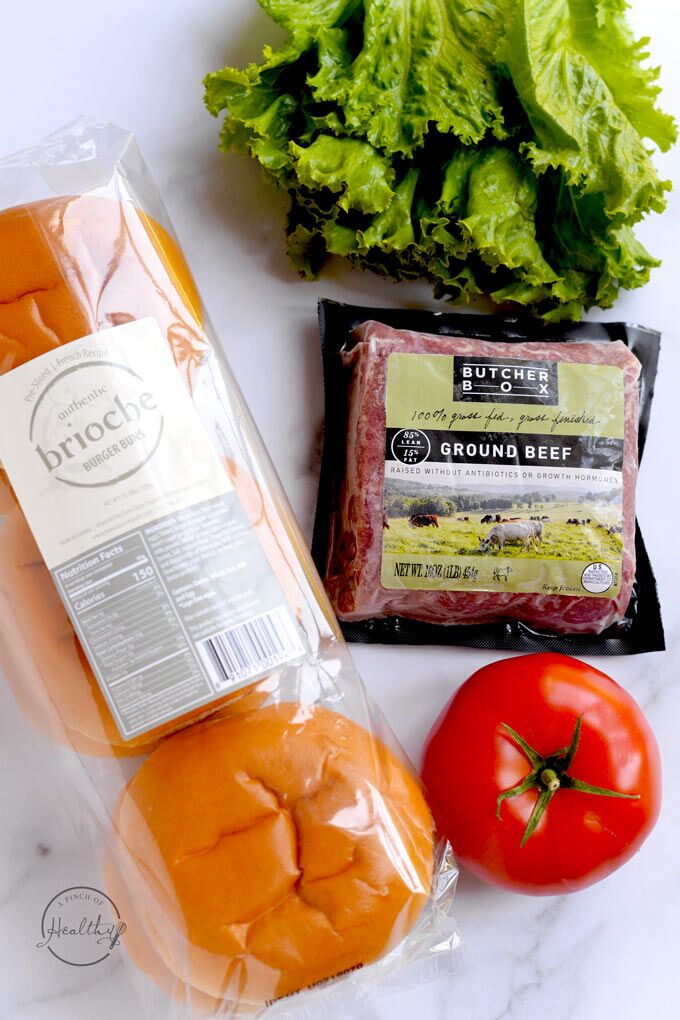 Brioche buns are my favorite! And I am also loving all the meats I have tried from Butcher Box.
By the way, Butcher Box does has a fantastic summer promotion going for new customers: The Ultimate BBQ Bundle (👈🏻affiliate links, full affiliate disclosure here). You get baby back ribs, two pounds of ground beef and two NY strip steaks for free with your first order, which is a pretty sweet deal. 😎👌🏻
Also, you can use pre-made hamburger patties with this recipe, or use regular ground beef and form them by hand yourself.
How to make air fryer hamburgers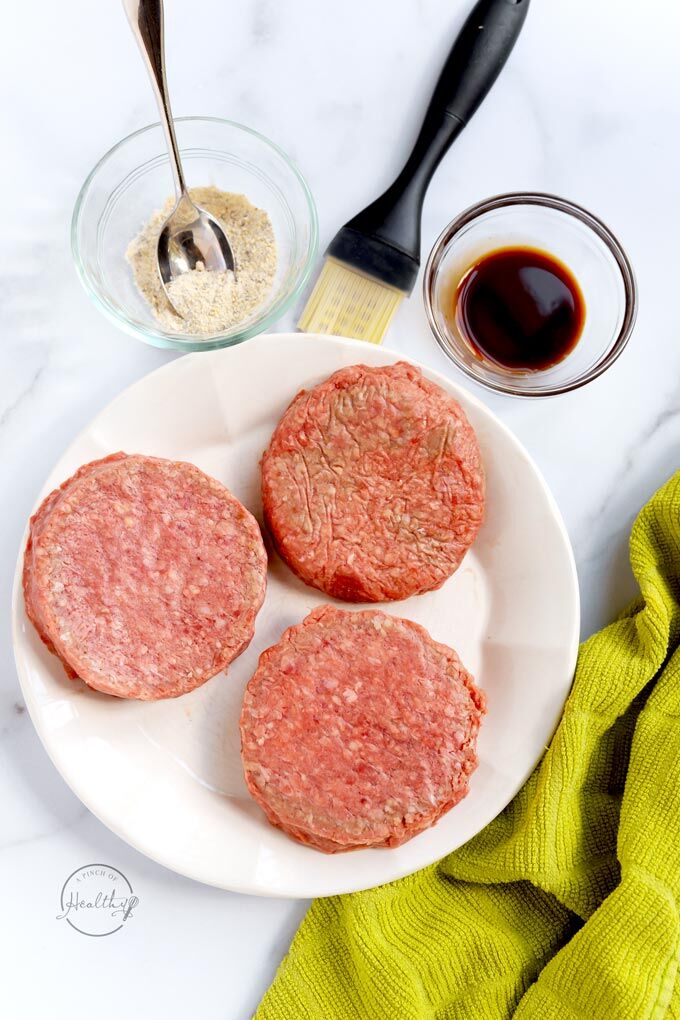 After you gather your ingredients, it't time to season up the burgers.
How to season hamburgers
If you have a seasoning game that you already love, you can totally use that. So how do I season hamburgers? As for me, I keep it simple yet flavorful with Worcestershire sauce, garlic powder, onion powder, salt and pepper.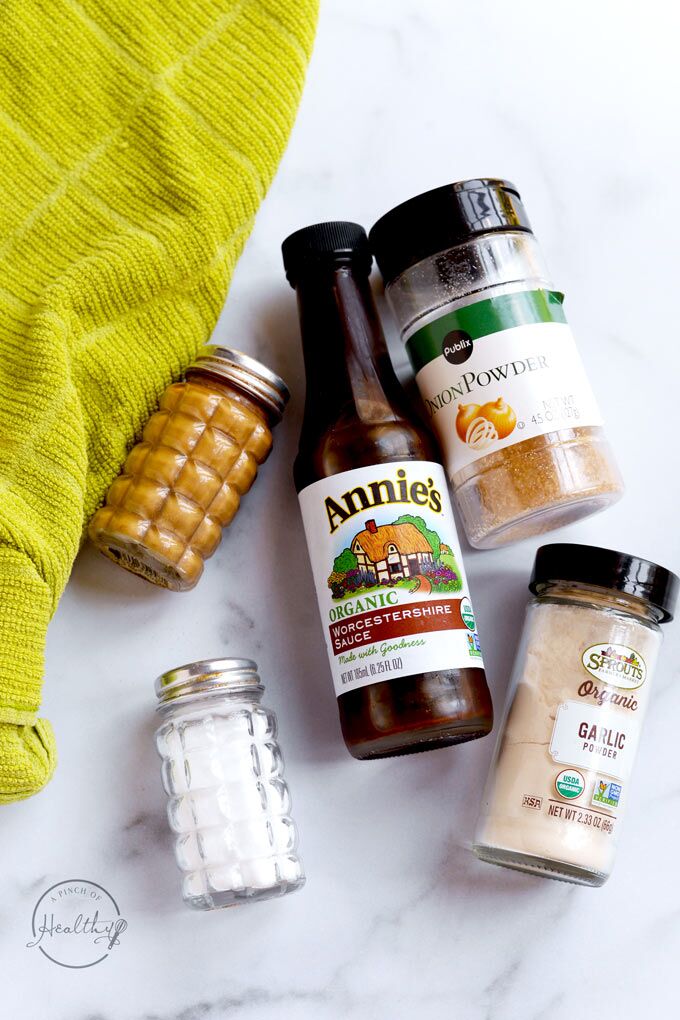 This seasoning works great! And I always keep these on hand, so there is no need for me to buy anything special from the store. You can even use it for grilled burgers, y'all.
Cook time and temperature
The amount of time will take a little trial and error, plus common sense, y'all. Air fryers can vary, and so can the size of your beef patties.
But here is what I recommend. Note: I like my burgers medium to medium-well. A little pink in the middle is fine with me.👌🏻
For 1/4 pound patties, I recommend cooking for 16 minutes in an air fryer preheated to 360 degrees Fahrenheit, flipping half-way through.
I also tested larger patties (those pre-made ones seen in the photos here) that were 1/3 pound a piece. Mine had some pink in the middle after cooking for 18 minutes, flipping half-way through).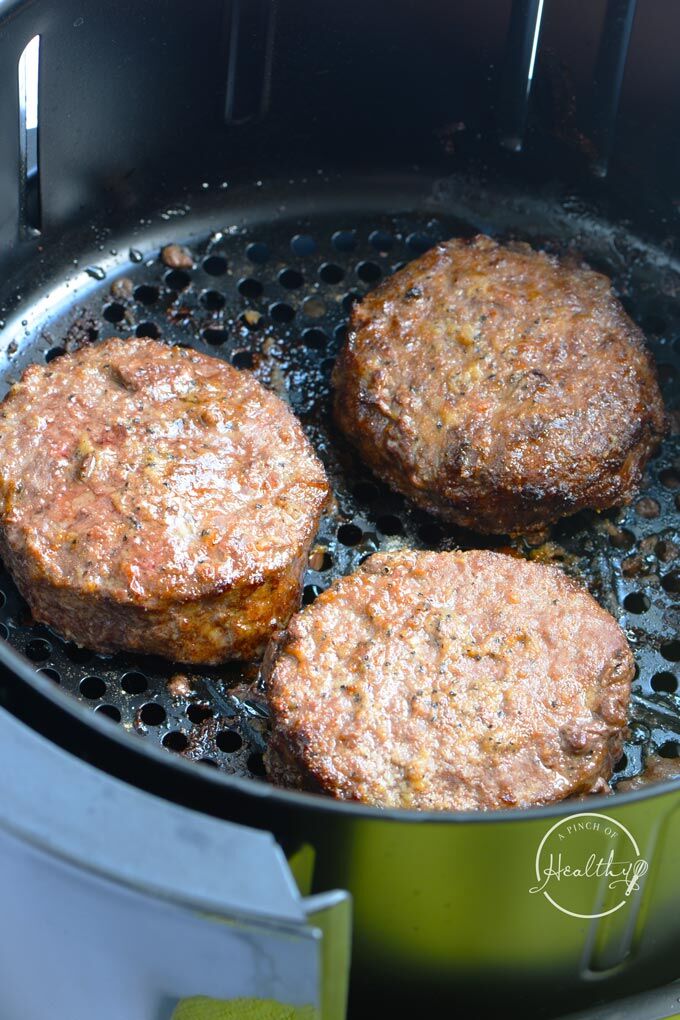 Frequently asked questions for cooking hamburgers in the air fryer
Do I preheat my air fryer?
I do preheat my air fryer, per the manufacturer recommendation. If you cook these without preheating, be aware that it may just need an extra minute or so of cook time, and you should be good to go.👌🏻
What temperature to cook air fryer hamburgers?
I cooked my hamburgers at 360 degrees.
How long does it take to cook a hamburger in the Airfryer?
For 1/4 pound patties, I recommend cooking for 16 minutes, flipping half-way through. Use common sense and trial and error to adjust to your liking. Mine are cooked medium with a little pink in the middle, FYI.
Can I add cheese?
I do not recommend adding cheese while the air fryer is ON. I did this, and my cheese slices blew off the patties and made a humongous mess. 😜 It was like a cheese tornado.🤣

Anyway, I remedy this by opening the basket once the cook time is complete. Add the cheese slices, and then close the basket for about a minute or two. It'll still be hot enough to melt the cheese, even though the air fryer is off.👌🏻
How many burger patties can I cook at a time?
Do not overcrowd the air fryer basket. I have a larger (5.8 quart) air fryer, so I had no trouble making 3 to 4 hamburgers at a time. If you need to make them in batches, just cover the cooked ones with foil, and then add them back in for the final minute of cooking to heat them back up.
Is it ok to use raw hamburger in an air fryer?
Yes! This is the method uses raw meat, and it cooks fully with the instructions provided.
What buns should I use?
Brioche buns are my favorite! That being said, you can use any type of hamburger bun you prefer with this recipe.
Can I use frozen hamburger patties?
I would highly recommend thawing the meat fully (or using fresh meat) for best results. Using frozen hamburgers may turn out okay with some extra cook time, but inconsistent results are likely. So use fresh or thawed meat will work best.
What to serve with air fryer burgers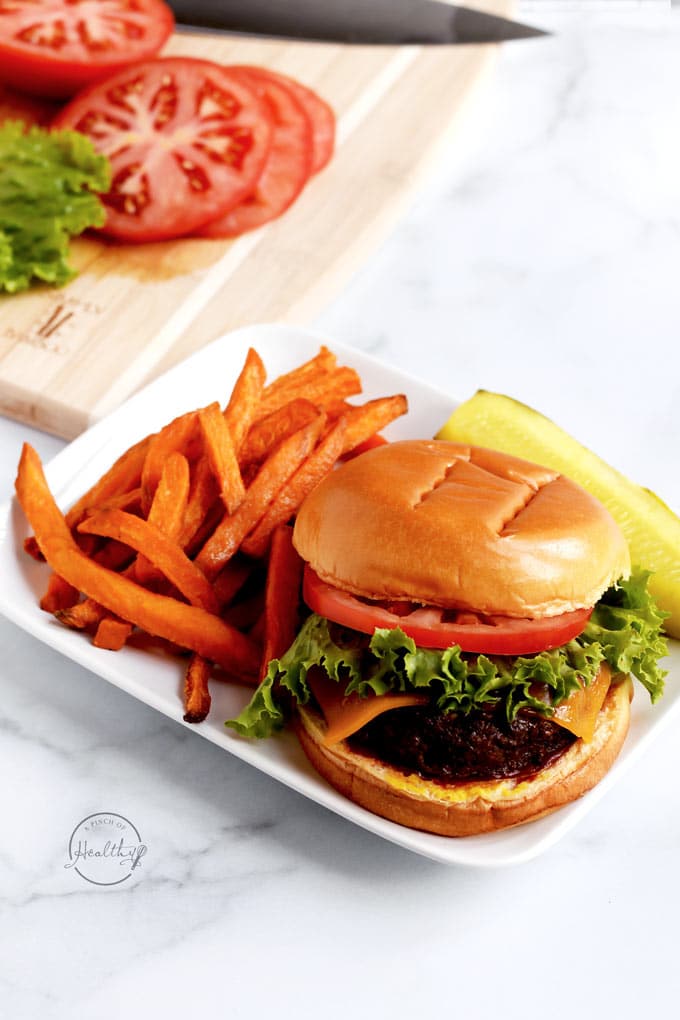 So what do you serve with air fryer hamburgers? Here are a few suggestions, including recipe links.
Also, check out 👉🏻👉🏻👉🏻 my entire Air Fryer recipe collection here.👈🏻👈🏻👈🏻
Share this recipe
Did you try this recipe? Give it a star rating. Pin it and share it if it looks good to you. And be sure and stay connected on social media!
Instagram | Pinterest | Facebook | YouTube | TikTok
Be sure and check out all my favorite kitchen tools in my Amazon store (affiliate).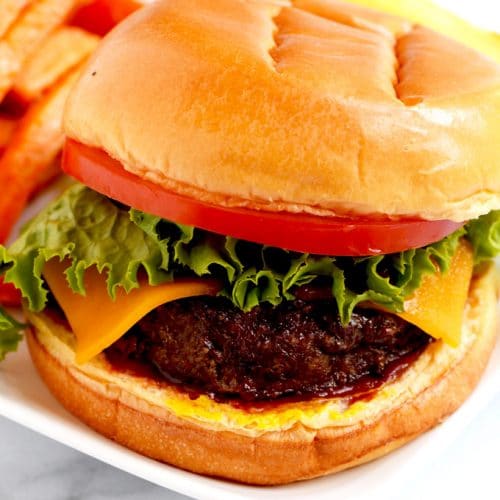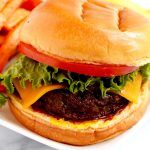 Air Fryer Hamburgers
Air fryer hamburgers are so juicy, delicious, plus super quick and easy to make! Ready in less than 30 minutes, and no grill needed.
Prep Time 10 minutes
Cook Time 16 minutes
Total Time 26 minutes
Servings 4
Calories 325 kcal
Ingredients
1 pound ground beef (I am using 85/15)
1 teaspoon salt
1 teaspoon garlic powder
1 teaspoon onion powder
1/4 teaspoon black pepper
1 teaspoon Worcestershire sauce
4 burger buns
Instructions
Regular ground beef method
Preheat the air fryer to 360 degrees.

Place the raw ground beef into a bowl, and add in the seasonings.

Use your hands (or a fork) to combine everything, and then form the mixture into a ball (still in the bowl).

Score the ground beef mixture into 4 equal sections by making a + sign to divide it.

Scoop out each section, and form into a patty.

Place it into the air fryer, making sure to leave plenty of space for each patty to cook (not touching). You can do this in batches, if necessary. I have a larger (5.8 quart) air fryer, and I did mine all in one batch.

Cook for 16 minutes, flipping half-way through. (Note: you may need to cook longer for larger patties.)
Pre-made patties method
Mix garlic powder, onion powder, salt and pepper in small bowl with a spoon, and stir until well-combined.

Pour a little Worcestershire sauce into a small bowl. You may need slightly more than a teaspoon (like 1.5 teaspoon), since some will stick to the pastry brush.

Place patties on a plate, and brush (or spoon) on a light coating of Worcestershire sauce.

Sprinkle each patty with seasoning, saving half for side 2.

Pat the seasoning with your hand to help it stick better.

Preheat the air fryer to 360 degrees F.

When it is preheated, remove the basket and carefully place the patties, seasoned side down, in the basket.

Season side 2, which is now facing upward the same way as above.

Place the basket bak in the air fryer, and cook 16 minutes, flipping half-way through.
Recipe Notes
Nutritional information is approximate and was calculated using a recipe nutrition label generator.
Nutrition Facts
Air Fryer Hamburgers
Amount Per Serving
Calories 325 Calories from Fat 117
% Daily Value*
Fat 13g20%
Saturated Fat 5g31%
Cholesterol 74mg25%
Sodium 887mg39%
Potassium 440mg13%
Carbohydrates 23g8%
Fiber 1g4%
Sugar 3g3%
Protein 27g54%
Vitamin C 0.6mg1%
Calcium 88mg9%
Iron 4.1mg23%
* Percent Daily Values are based on a 2000 calorie diet.
(Visited 543,499 times, 20 visits today)