This is how I make basic Air Fryer chicken breast. These are great with a couple simple sides for a quick dinner, and they also work great for meal prep.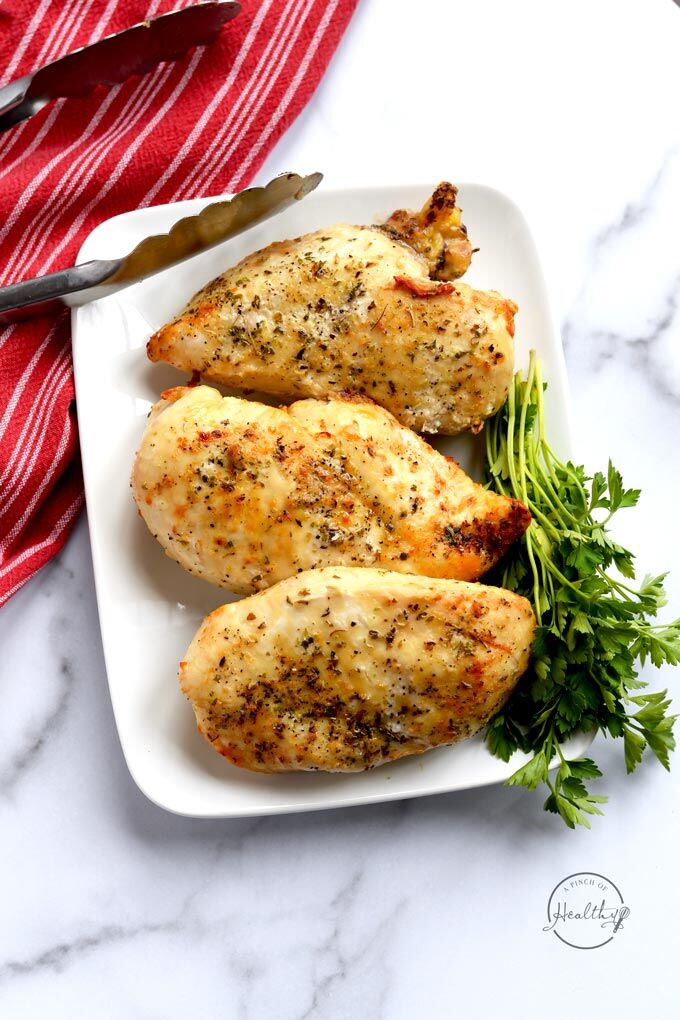 News flash! Your trusty air fryer is good for more than just breaded things, y'all. 😎 This recipe shows how to make air fryer chicken breast without flour or breading. It resembles a grilled chicken breast, but without a grill.
I am loving making this basic air fryer chicken breast. Tender, juicy, delicious and perfect to eat over salads, with rice and veggies or on sandwiches. So versatile and simple! It is our family's most used chicken recipe.
After testing this recipe many, many times I think I finally cracked the code.
Note: This post contains Amazon affiliate links. See my full affiliate disclosure policy here.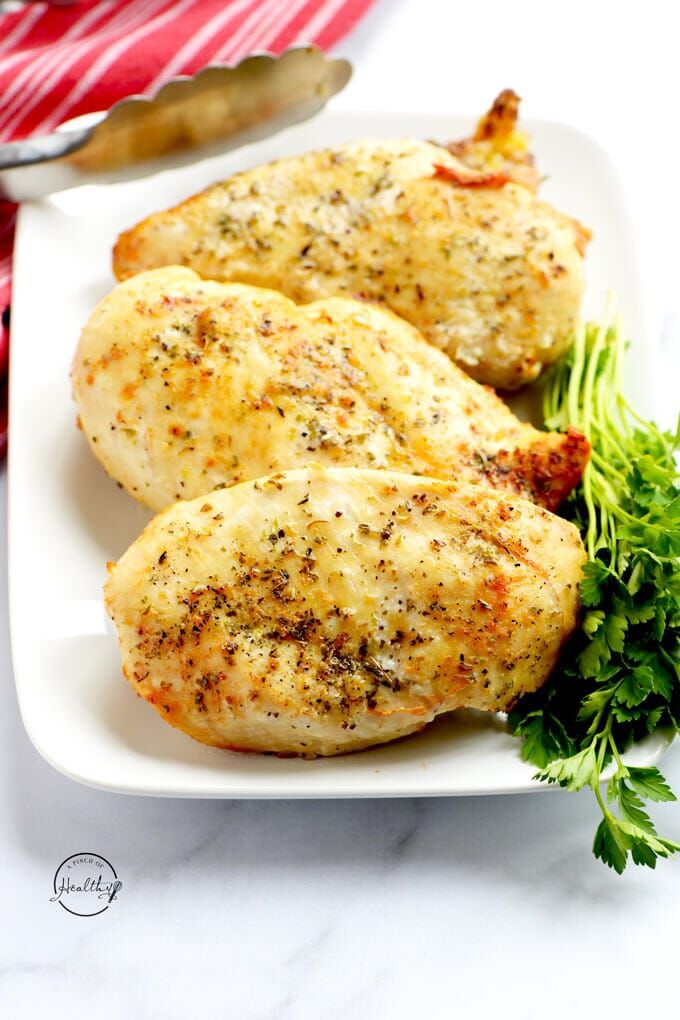 How to make air fryer chicken breast
First, gather your ingredients.
Ingredients
The ingredients are pretty simple:
uncooked boneless, skinless chicken breast
garlic powder or granulated garlic
oregano
salt and pepper
cooking spray (optional)
Other seasonings I have added that are good to include, but not necessary for the base recipe: chili powder, paprika, basil, chives, thyme, onion powder.
You can also use no oil, or drizzle a bit of olive oil or avocado oil and rub to apply (prior to sprinkling seasoning), rather than use cooking spray. This recipe is super adaptable.
Cooking Tips
There are a few things you need to be aware of before you make air fryer chicken breast. Let me just say that the air fryer is a quick cooker. It cooks faster than your typical oven.
So I recommend paying very close attention to cook time when air frying chicken, or any meat. This includes time passed after the air fryer has shut off.
You may think it's okay to leave the chicken breast sitting in there for ten minutes until the rest of dinner is done. Nope! 🙅🏼‍♀️You need to remove these promptly because they will keep cooking and dry out.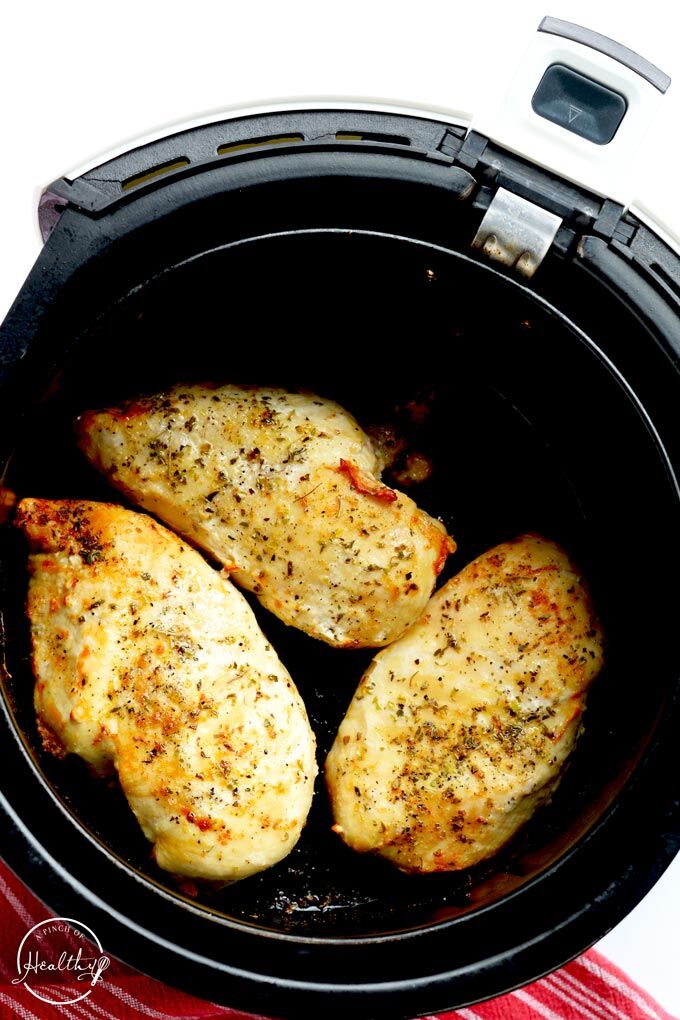 If your air fryer has a knob timer like mine does, I would recommend using a more accurate digital timer instead.
Examples: the timer on your phone, the timer on your microwave, etc. Because these cook so fast, the smallest variance tends to make a big difference.
For your convenience, I have included a table of recommended cook times in the notes section of the recipe card below, based on the results of said testing.🤓👊🏻 I want to help you get that tender and juicy result.
Size matters
Size most definitely matters when air frying chicken. First, a kitchen scale will be most helpful in getting best results. You need to know the weight of your chicken breasts to know how long to cook them.
The next best option is to try to eyeball a package of similar sized chicken breasts at the store. You can then take the total weight listed on the package and divide by the number of chicken breasts in the package.
Process
Seasoning
Now that you have gathered your ingredients and read all the tips, you are ready to season the meat on both sides of the chicken. I am using my go-to basic chicken seasoning: garlic, oregano, salt and pepper.
Normally I don't measure this when I am making it for myself. I am really good at eyeballing it.
But I went ahead and measured everything out for y'all. I tried mixing everything together in a blend and just spooning it on. It worked out great.👌🏻
You will want to season the presentation side first. This would be the smooth side of the chicken breast. I spray mine with a little cooking spray, and sprinkle it with the seasoning blend.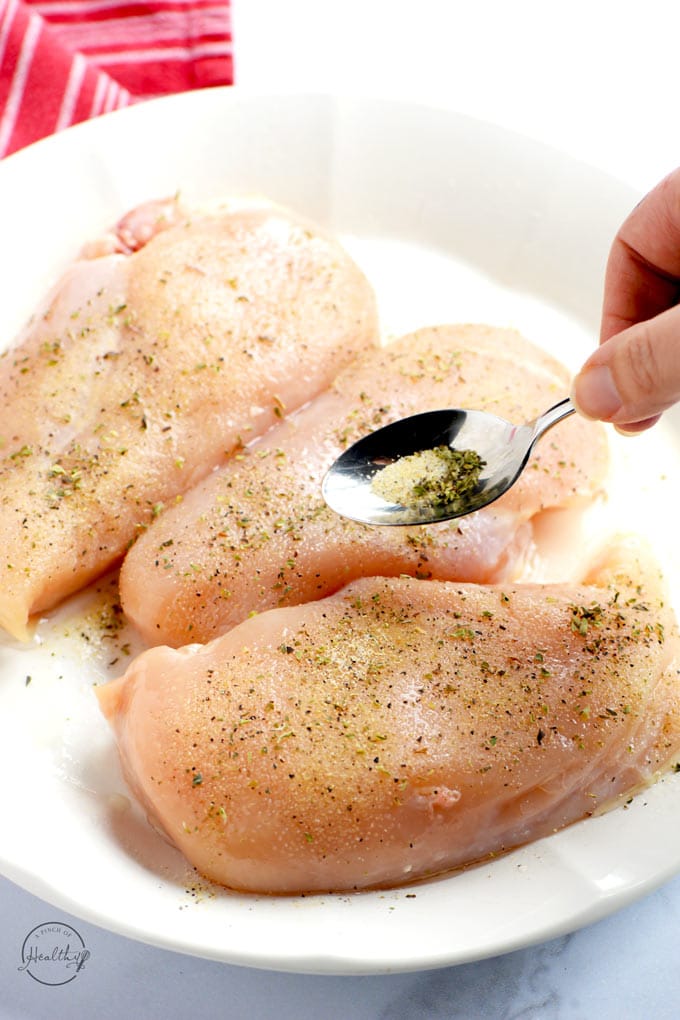 Next, place the chicken breast seasoned side down into the air fryer basket. Then spray and season side two, which is now facing upward. Now you are ready to start cooking!
Cooking air fryer chicken breast
Wondering how long to air fry chicken breasts and at what temperature? I set my timer for half the estimated cook time: 10 minutes in my case. Then I cook at 360 degrees for that time. No need to preheat.
Next, I use tongs to flip over the chicken breasts. Then cook for the remaining time, 10 minutes in my case (for a total of 20 minutes cook time). See chart in recipe notes below for more suggested cook times!
Remove the chicken breasts from the air fryer immediately, and allow them to rest for at least 5 minutes. This will allow the juices to redistribute and result in juicier chicken breasts.
Serve and enjoy!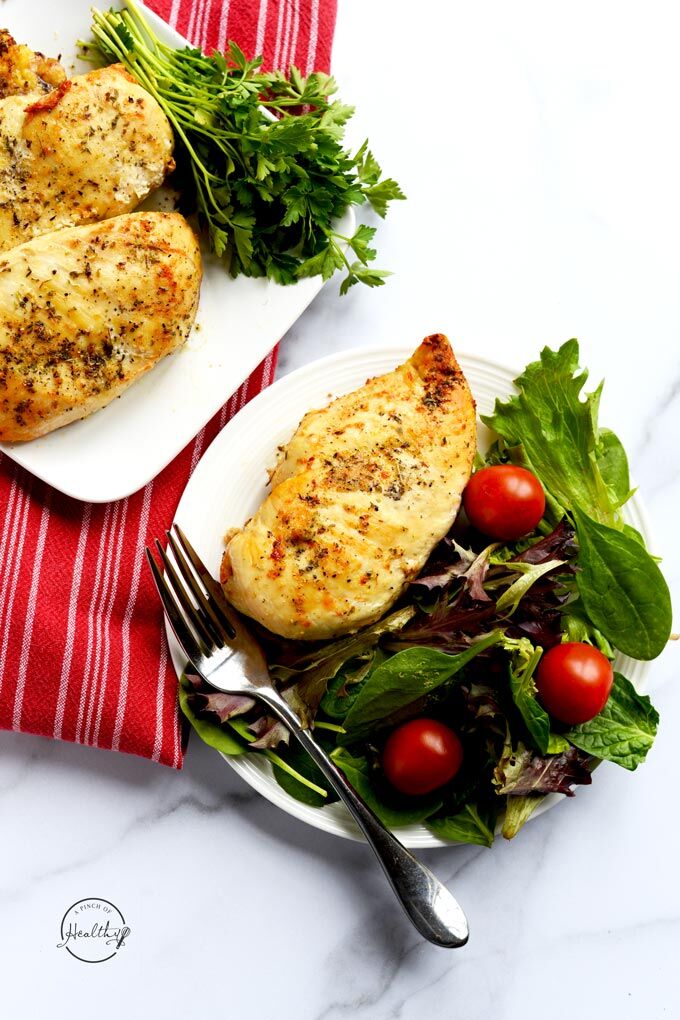 Frequently asked questions
How long and what temperature to air fry chicken breast?
After many multiple rounds of testing, the best cook time is about 2o minutes total (flipping half way through) at 360 degrees Fahrenheit.
Can I use frozen chicken breasts?
No, I would not recommend frozen chicken breasts for this recipe. For best results, use fresh or fully thawed chicken breasts.
Do I need to preheat?
You definitely can preheat if you want to. I rarely do, and I have not had a problem. It is also worth noting I have make this in 4 different air fryers, and the results are similar throughout. Tender, juicy chicken breast every time! This is probably my most used chicken recipe in our family.
Do I need to brine the chicken?
You could brine the chicken if you want. I just find it unnecessary, since the recipe as written already comes out so unbelievably tender and juicy.
Can you put raw chicken in an air fryer?
Yes! I am assuming this is a question because air fryers are also popular for heating up frozen (cooked) chicken tenders or chicken products you would purchase in the freezer section of a grocery store. But yes, you can also fully cook raw, plain chicken breasts in an air fryer. It is the whole basis of this particular recipe.😉👌🏻
Is air fryer chicken breast good for you?
Preparing chicken this way in the air fryer reduces the oil, and we are not adding any breading here. It would have a similar health profile to steamed, boiled, grilled or baked chicken breast.
Storage Tips & Leftover Ideas
You can store leftover air fryer chicken breast in the refrigerator for up to 4 days, or in the freezer for up to 6 months. For refrigeration, an airtight storage container works best. You could also use aluminum foil.
For freezer, I recommend a freezer bag, with most of the air pockets removed. Those vacuum sealers are awesome. So definitely feel free to use one if you have one. Honestly, just patting the bag flat with your hand to remove most of the air pockets prior to sealing works fine too.
I always make extra air fryer chicken breasts because they are so good on many other dishes throughout the week. Some of our favorites are chicken pasta bake, chicken pesto pasta and Greek salad with chicken.
What to serve with on the side
Here are a few of my favorite sides to serve with air fryer chicken breasts:
Also, if you are looking for more air fryer recipes, be sure and check out ALL my air fryer recipes here.
Air Fryer Chicken Breast Recipe
Did you try this recipe? Give it a star rating. Pin it and share it if it looks good to you. And be sure and stay connected on social media!
Instagram | Pinterest | Facebook | YouTube | Twitter
Note: Recipe contains Amazon affiliate links.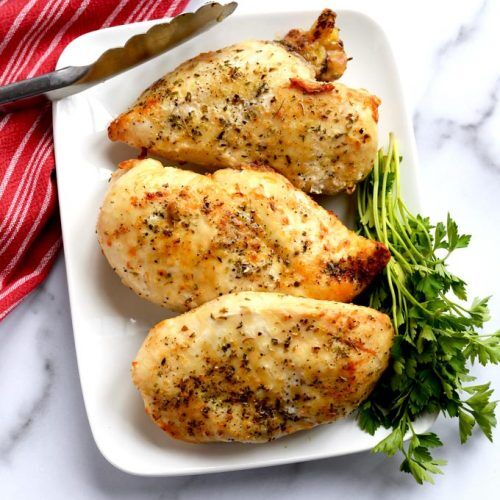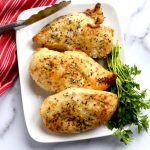 Air Fryer Chicken Breast
This is how I make basic Air Fryer chicken breast. These are great with a couple simple sides for a quick dinner, and they also work great for meal prep.

Prep Time 2 minutes
Cook Time 20 minutes
Rest Time 5 minutes
Total Time 22 minutes
Servings 4
Calories 163 kcal
Ingredients
cooking spray (or rub on oil of choice – use about 1/4 Tablespoon per chicken breast)
4 boneless skinless chicken breasts raw, mine were about 7.5 to 8 ounces each
1/2 teaspoon garlic powder (about 1/8 tsp per chicken breast)
1/2 teaspoon salt (1/8 tsp per chicken breast)
1/8 teaspoon black pepper (a dash per chicken breast)
1/2 teaspoon dried oregano (around 1/8 tsp per breast, and you can sub parsley, basil, thyme, etc.)
Instructions
In a small bowl, mix the salt, pepper, garlic powder and oregano together.

Spray the chicken breasts on the presentation side (smooth side) with cooking spray of choice. I use avocado oil spray.

Sprinkle some of the seasoning blend on each chicken breast, and use hands to pat and help the seasoning stick.

Place the chicken breast, seasoned side down, in the air fryer.

Spray the bare side, which is now facing up, and sprinkle on the remaining seasoning.

Cook for 10 minutes on 360 degrees.

Flip over (tongs are extremely helpful), and cook until internal temperature reaches at least 165, about another 8 to 12 minutes on 360 depending on the size of your chicken breasts. (Mine were about 7.75 ounces each, and 10 minutes on the 2nd side was perfect.👌🏻That's 20 minutes total. See cook time notes section below.)

Remove the basket from the air fryer, and allow the chicken to rest for about 5 minutes before cutting into it. This lets the juices redistribute and helps the chicken be juicier.
Recipe Notes
Nutrition information is approximate and was calculated using a recipe nutrition label generator.
Recommended Cook Times: I conducted many tests related to chicken breast size and time cooked. Here is what worked well in my air fryer. For each test, I flip the chicken breast half-way through.
5.5 to 6 ounces 18 minutes
6.5 to 7.5 ounces 19 minutes
7.75 to 8.5 ounces 20 minutes
9 to 10 ounces 21 minutes
Note: Air fryers and cook times may vary from the above. Always use common sense, and make sure your chicken is cooked all the way through.
Timer: use an accurate timer such as a digital timer, like the timer on your phone or microwave. My air fryer has a knob timer, and it is difficult to get an accurate timing. Since the air fryer cooks so fast, this could affect the quality of your chicken breasts.
Note: I rarely measure my seasonings anymore because I have gotten a good feel for "enough." I did measure everything out for y'all. If it tastes bland, add more salt to taste.
Do not overcrowd the cooking basket. I would recommend cooking no more than 3 or 4 chicken breasts at a time, depending on size.
Nutrition Facts
Air Fryer Chicken Breast
Amount Per Serving
Calories 163 Calories from Fat 27
% Daily Value*
Fat 3g5%
Cholesterol 90mg30%
Sodium 454mg20%
Potassium 522mg15%
Protein 30g60%
Vitamin A 40IU1%
Vitamin C 1.7mg2%
Calcium 11mg1%
Iron 0.6mg3%
* Percent Daily Values are based on a 2000 calorie diet.
Note: Air fryer chicken breasts originally appeared on A Pinch of Healthy February 25, 2019.
(Visited 3,086,499 times, 345 visits today)