Air fryer butternut squash is a delicious, simple recipe for squash season, and it is a healthy side dish to complement your main course.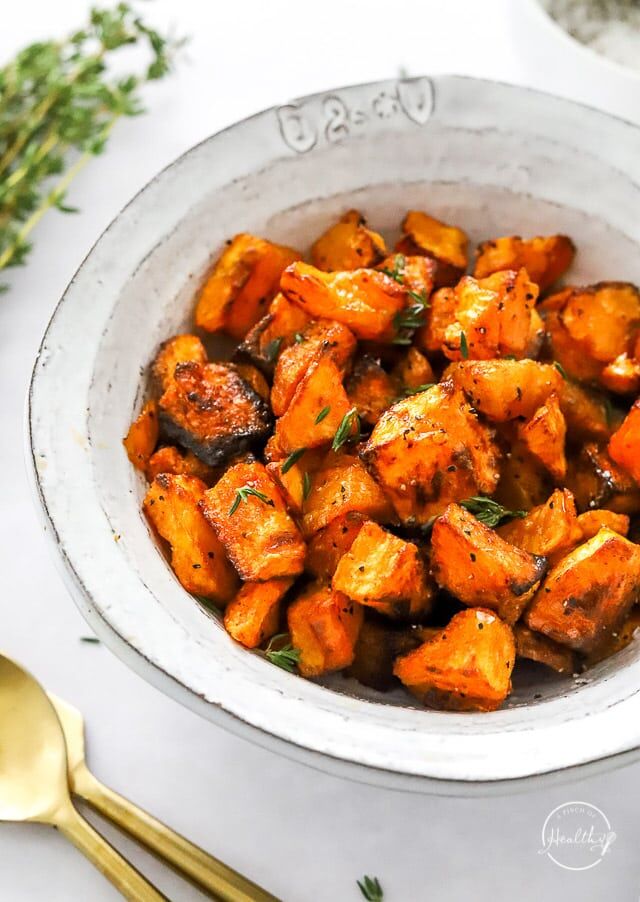 Discover the simplicity and deliciousness of air fryer butternut squash! This recipe transforms simple ingredients into a mouthwatering side dish that's perfect for any occasion.
Note: This post contains Amazon affiliate links. See my full affiliate disclosure policy here.
Air fryer butternut squash is a great side dish that's not only easy to make but also packs a punch of flavor. With its crispy exterior and tender interior, it's a healthy alternative to french fries or other fried foods.
Plus, using an air fryer means less oil is needed, making it a healthy side dish option.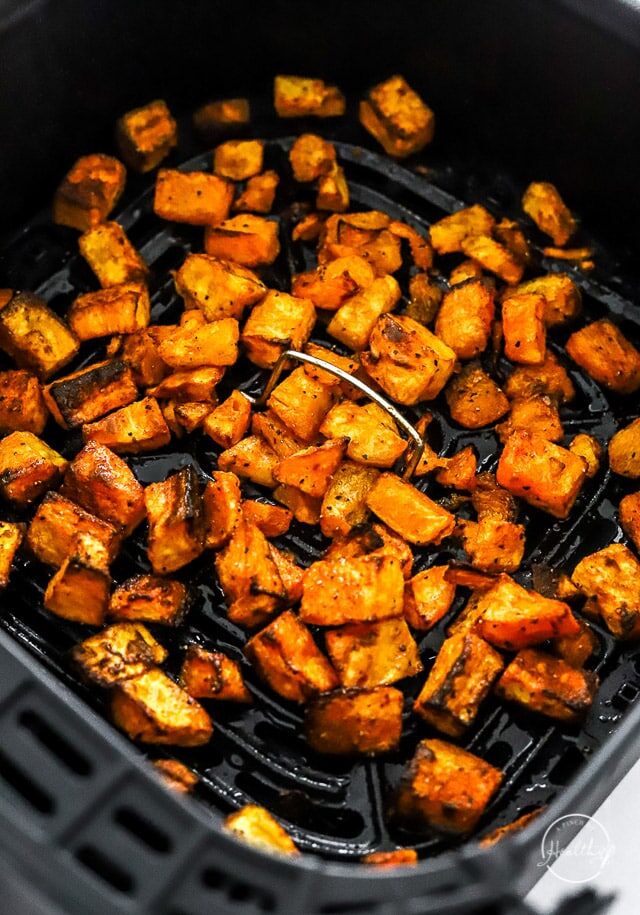 This recipe is vegan and keto-friendly and perfect for those on a plant-based or low-carb diet. Enjoy it during the holiday season, or any time of the year for a touch of fall flavors.
Whether you have a Ninja Foodi, a conventional oven with an air fryer feature, or any other type of air fryer, this air fryer butternut squash recipe is a must-try. So why not give it a go and add it to your collection of favorite air fryer recipes?
How to Make Air Fryer Butternut Squash
First, gather your ingredients.
Ingredients
For best taste, always use the highest quality ingredients you have access to.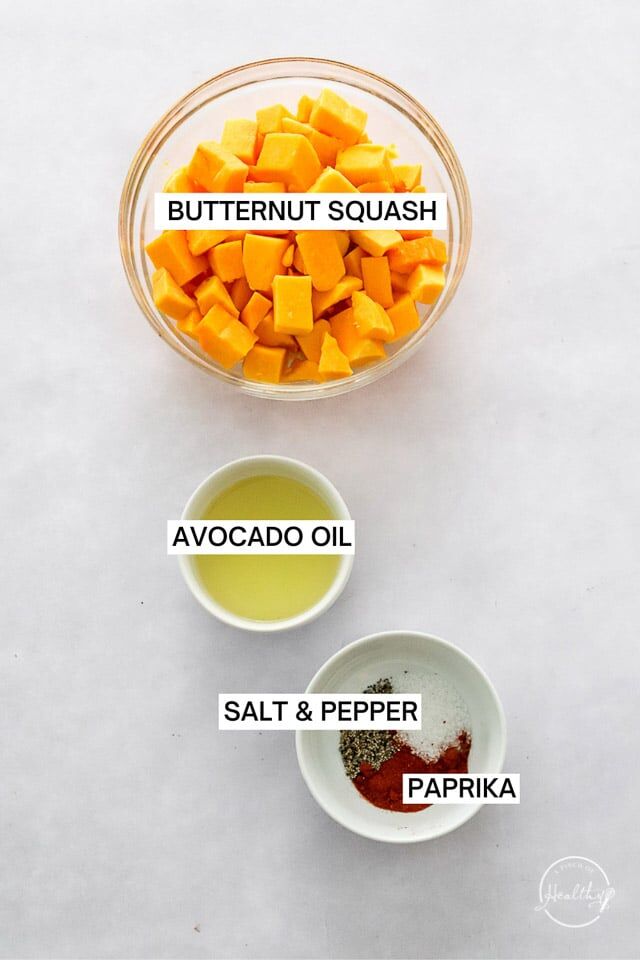 To make this Air Fryer Butternut Squash recipe, you will need the following ingredients:
Butternut squash cubes
Avocado oil
Salt
Pepper
Paprika
Butternut squash is a versatile and healthy vegetable, perfect for air frying. The grocery store often has pre-cut butternut squash available, making this an easy side dish to prepare. I used the ones from Trader Joe's. I have also seen them at Costco and many other stores.
You can also opt for a whole butternut squash and cut it into 1-inch cubes yourself using a sharp knife and vegetable peeler.
Cooking Air Fryer Butternut Squash
This is a simple recipe that can be made with minimal effort and is a perfect addition to your collection of favorite recipes. Here is how you can make it!
Seasoning
First, toss the squash cubes in the avocado oil and seasonings in a large bowl until well-coated.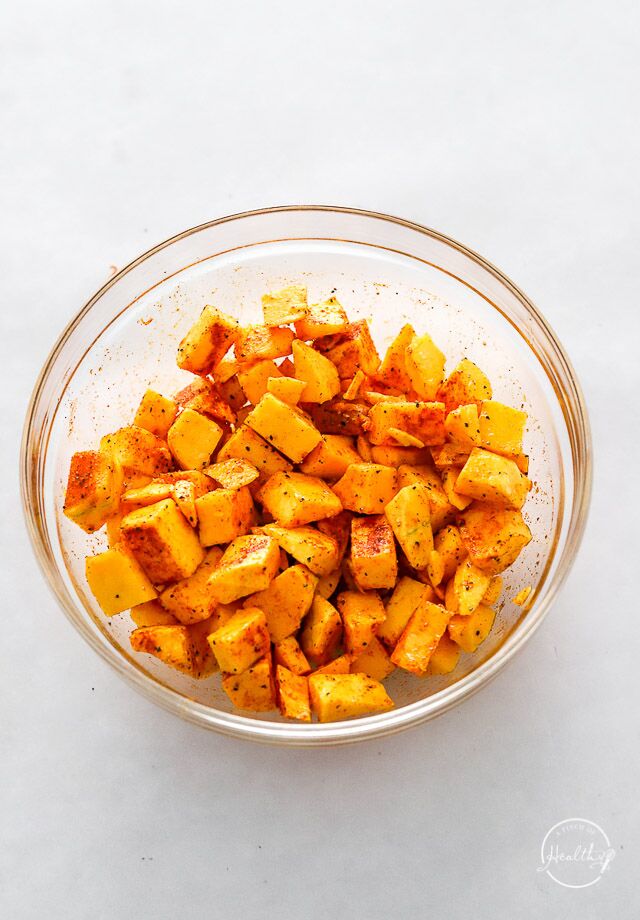 It's a great idea to ensure that the squash pieces are in a single layer in the air fryer basket for even cooking.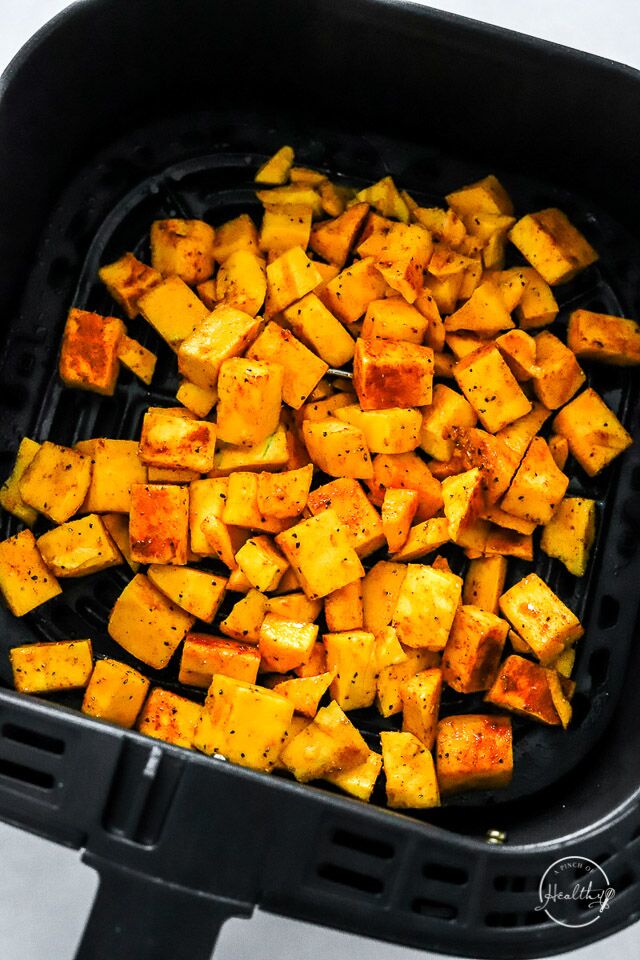 Transfer the seasoned butternut squash to the air fryer basket and let the magic happen at 375 degrees F. You're aiming for that golden brown perfection, which should take about 20 minutes.
Be sure to toss or flip the squash cubes several times throughout the cooking time to ensure even cooking. If you're after a crispier texture, feel free to bump up the heat to 400 degrees F for a few extra minutes, just keep a close eye to avoid any burning.
Serve and enjoy!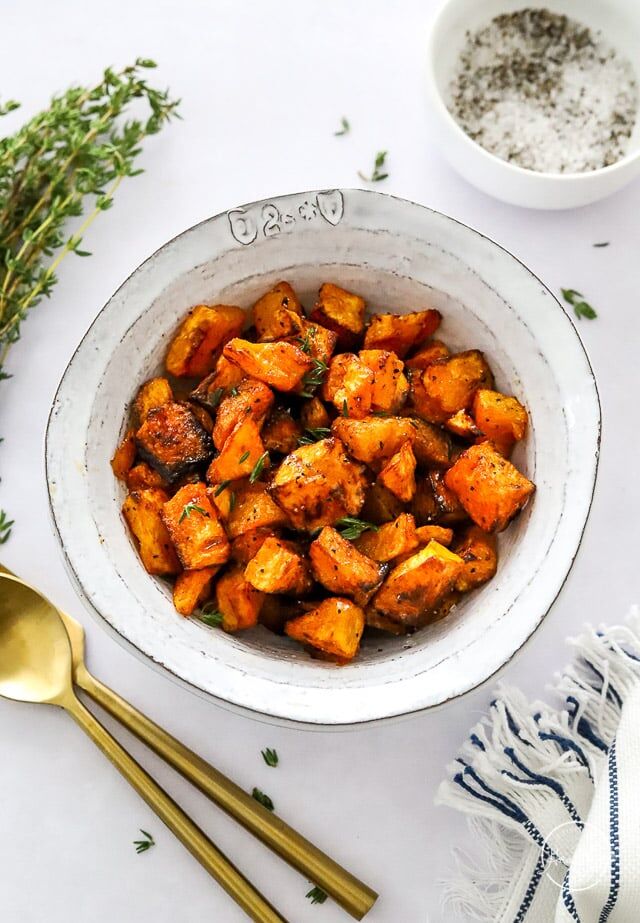 Leftovers
Store leftover air fryer butternut squash in an airtight container in the refrigerator for 3 to 5 days. Always use common sense and good judgement when it comes to leftovers, though! If something looks or smells funky, don't eat it.
Did you try this recipe? Give it a star rating. Pin it and share it if it looks good to you. And be sure and stay connected on social media!
Instagram | Pinterest | Facebook | YouTube | TikTok
Be sure and check out all my favorite kitchen tools in my Amazon store (affiliate).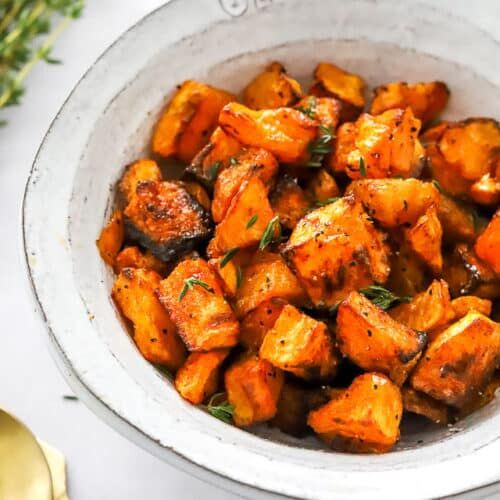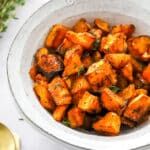 Air Fryer Butternut Squash
Air fryer butternut squash is a delicious, simple recipe for squash season, and it is a healthy side dish to complement your main course.
Prep Time 3 minutes
Cook Time 20 minutes
Total Time 23 minutes
Servings 4
Calories 51 kcal
Ingredients
1 pound butternuts squash cubes
1 Tablespoon avocado oil
1/2 teaspoon salt plus more to taste prior to serving
1/4 teaspoon pepper
1/4 teaspoon paprika
Instructions
Toss the squash cubes in the oils and seasonings in a mixing bowl until well-coated.

Transfer to air fryer basket and air fry on 375 until golden brown, about 20 minutes, tossing/ flipping several times throughout cooking. If you want them crispier after 20 minutes, bump up the heat to 400, and go a few extra minutes, watching carefully not to burn.
Recipe Notes
Nutritional information is approximate and was calculated using a recipe nutrition label generator.
Nutrition Facts
Air Fryer Butternut Squash
Amount Per Serving
Calories 51 Calories from Fat 1
% Daily Value*
Fat 0.1g0%
Saturated Fat 0.03g0%
Polyunsaturated Fat 0.05g
Monounsaturated Fat 0.01g
Sodium 5mg0%
Potassium 399mg11%
Carbohydrates 13g4%
Fiber 2g8%
Sugar 2g2%
Protein 1g2%
Vitamin A 12054IU241%
Vitamin C 24mg29%
Calcium 54mg5%
Iron 1mg6%
* Percent Daily Values are based on a 2000 calorie diet.
(Visited 171 times, 2 visits today)